This four-week course will provide support for both experienced and newer students of the Dharma. We will look at how practice on the cushion and in our daily life work together to make our engagement with the Dharma a lived experience. We'll explore different ways to sustain a daily sitting practice, increase moment-to-moment awareness and be more mindful in our lives both on and off the cushion.
There are many aspects of the teachings that we can use to support our practice. We can look at setting an intention, meditating in the Four Postures, the gift of Dana or generosity, the Brahma Viharas or "energies of the heart," the mindfulness training available in taking the Precepts, chanting and the Three Refuges, different ways to use the breath as a bridge, and more.
Given that the Buddha once said "…ever arise they who by day and night always contemplate the Sangha," emphasis will be placed on spiritual friendship. So there will be ample time for sharing, learning from each other and for questions.
Thursdays: March 16, 23, 30; April 6 from 7-9pm
Registration Fee: $120 for all four classes
*Available for drop in at $30/class
Registration fee includes teacher support.
Partial scholarships are available, please e-mail us.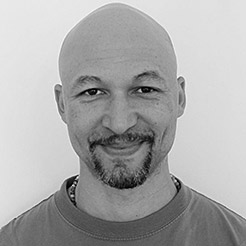 Joshua Bee Alafia graduated from UC Santa Cruz in 1995 with a BA in Theatre Arts/Film. He currently is a filmmaker and has worked as a teaching artist teaching film, capoeira, tai chi and mindfulness practice. He is a graduate of the Community Dharma Leaders training through Spirit Rock Meditation Center.