How often have you experienced the mind's dissatisfaction with the way things are, its wailing for things to be different? How often have you allowed aversion to turn you away from what is right in front of you, or let the desire for pleasure override your best intentions, or some other variation of the attempt to take yourself away from the present? In one way or another this is what we all do to avoid the fullness of the present moment. The contemplation "What if Everything Is Perfect Just as It Is" can guide us unerringly back to the present and all the moment has to offer and teach us. It can have us remember to embody our direct experience.
Here, the word "Perfect" is inclusive of our direct experience, both internally and externally, and of all mind states. It holds us to bear witness to what it means to live in a heart, mind and body. For to live, learn and love what it means to be fully human opens the door to freedom. Come and explore "What if Everything is Perfect Just as It Is?" with the intention of deepening your practice both on and off the cushion.
The day will include periods of meditation, teachings and interactive experiential practice. It is appropriate for all levels of meditation experience.
This daylong is given on a dana basis. This means that there is no admission fee for the event. Donations to support the teachings are greatly appreciated.
Starting suggested donation is $50. No one will be turned away for lack of funds. Dana will be split between the three teachers and NYI.
Nancy Glimm has been practicing vipassana meditation since 1996. She has been a part of New York Insight Meditation Center since its inception. Nancy is a 2012 graduate of the Spirit Rock Community Dharma Leaders training program. Her primary teacher is Gloria Taraniya Ambrosia. Nancy leads the Living Urban Dharma Monday Daytime Sit. She is a psychotherapist in private practice with over 35 years of experience. Her psychotherapy practice is informed by her spiritual practice.

Rosemary Blake has been a meditator for more than 30 years. She was introduced to the dharma in 2003 at the first Insight Meditation Society POC retreat, an event she attended annually for the next ten years. Her experience in 2013 of IMS' three-month retreat both deepened her practice and created a commitment to attend a month-long vipassana meditation retreat every year. She completed Larry Yang's two year Commit2Dharma study program and began teaching insight meditation at New York Insight after her graduation from Spirit Rock's fourth Community Dharma Leaders Program. In addition, she recently completed her tenure as President of the Board at Insight Meditation Society in Barre, MA. Rosemary is grateful for all that this practice provides.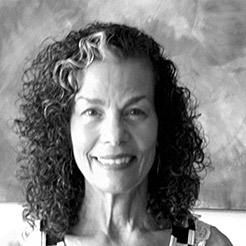 Amy Selzer has been practicing vipassana meditation since 2002. She has completed two year-long classes on Integrated Study and Practice with Andrew Olendski. Currently, she is part of the Community Dharma Leaders teaching program. She has led groups for the past 12 years and now teaches in several NYI sanghas. Amy's former career was team teaching young children in an inclusion program comprised of children with and without special needs. In addition, she worked with and supported their parents. Her love of teaching continues. She is particularly passionate about the dharma and bringing it into the lives of the aging population as well as to all other practitioners.