The Maha-Mangala Sutta, The Great Discourse on Blessings, is a short discourse included in the Sutta-nipata. The sutta sketches a path through life that yields abundant blessings, traditionally numbered at 38. The path begins with the most elementary step of good friendship, passes through the living of a wholesome householder life, the development of inner virtues, and the pursuit of spiritual cultivation. It culminates in the highest liberation. In this retreat we will examine each of the thirty-eight blessings, illuminating the root text with references to other relevant passages from the Buddha's discourses.
Beginning and seasoned meditators are welcome; no previous experience is necessary.
Friday–Sunday, April 7-9, 2017
Friday: 7–9pm, Saturday: 10am–5pm, Sunday: 10am–5pm*
Doors open Friday at 6:30pm; Saturday & Sunday at 9:30am
Friday: $30.00
Saturday + Sunday: $95.00
Friday-Sunday: $115.00
*Registration fee does not include Teacher Support/Dana; please read information below.
Teacher support: Suggested starting donation is $30 but whatever you offer is greatly appreciated. All donations go to support the teacher(s).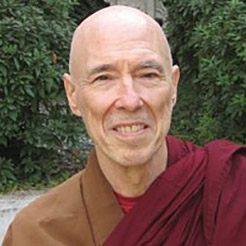 Ven. Bhikkhu Bodhi is an American Theravada Buddhist monk, originally from New York City. He received novice ordination in 1972 and full ordination in 1973 and lived in Asia for 24 years, primarily in Sri Lanka. A Buddhist scholar and translator of Buddhist texts, he is also the founder of Buddhist Global Relief, a nonprofit supporting hunger relief, sustainable agriculture, and education in countries suffering from chronic poverty and malnutrition. He lives and teaches at Chuang Yen Monastery near Carmel, New York.