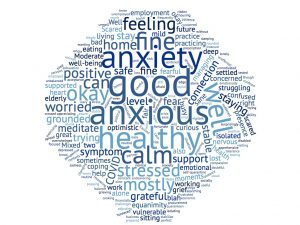 The COVID-19 pandemic has been challenging for many, and we hope that we can serve you and strengthen the connections among all of us during this trying time.
From a recent Community Survey to see how you all are faring, we heard that many are anxious, worried, isolated and worried. Some are very stressed and scared. We also heard that many of you are using your meditation practice to access your inner resilience.
We've also been hearing from many of you via email, during our various meditation sits and through our committee meetings. All of us have experienced loss – illness, death and massive disruption in what we were expecting Spring 2020 to be. There is grieving individually and collectively. We are sharing loss.
In response, we'd like to share resources that can support your practice and our individual and collective well-being. Feel free to pass this along to anyone who may benefit!
With metta,
New York Insight
Free NYI Meditation Sitting Groups/Sanghas
We are stronger together. Our meditation sitting groups/sanghas, led by NYI teachers and practice leaders, are freely offered and by donation. We hope you can join us as we come together to practice during this challenging time.
To find out about sanghas/programs occurring each day, click here to view our monthly calendar.
Insight Dialogue with Bart van Melik | 2nd & 4th Wednesdays of the month starting in June, 8:00am–9:30am ET
Insight OUT: LGBTQI Sangha  | 4th Monday of the month, 6:30-8:30pm ET
People of Color Sangha | 1st and 3rd Monday of the month, 7-9pm ET
Sacred Earth Sangha  | 2nd Monday of the month, 7-9pm ET
Queens Sangha  | Two Mondays a month, 7-9pm ET – Check monthly calendar for updates.
Aging as a Spiritual Practice  | Every Tuesday, 1-2:30pm ET
Tuesday Dharma Gathering  | Every Tuesday, 7-9pm ET-  Check monthly calendar for more info.
Brooklyn Sangha  | Every Tuesday, 7-9pm ET
Harlem Insight  | Every Wednesday, 7:30-8:45pm ET
New Jersey Sangha  | Every Wednesday, 7-9pm ET
Thursday Peer-Led Sit  | Every Thursday, 7-9pm ET
Dedicated Practice  | Every Sunday, 6-8pm ET
Generation Meditation Sangha  | 2nd & 4th Sunday of the month, 6–8pm ET
More Drop-In Meditation Groups led by NYI Teachers & Others*
We have heard from many in the survey the desire for more sits during the daytime. Here are some led by our NYI teachers:
NYI Teacher Jon Aaron and Upayadhi's Space2Meditate | Live Community Meditations
Mondays- Saturdays, 8-8:30am ET and 5:45-6:15pm ET (Live Community Meditation)
Fridays, 6:30-7pm ET (Live Dharma Talk & Q&A)
Click here for more information about the full schedule and online access.
Public Listing of Insight Meditation Sits: Please click here for a public listing of other Insight Meditation online groups occurring across the centers in the U.S. and internationally.
Tricycle Magazine's Free Online Practice Sessions
*Disclaimer: These listings are a public service, and are neither updated nor monitored by New York Insight. We are not responsible for the accuracy or updates to the listings.
Upcoming NYI Sits & Programs to Support You During COVID-19
We heard from the survey your interest in COVID-19-specific meditation programs, including those that occur during the day. Check out the following events that are geared towards: supporting your mental and emotional well-being; cultivating compassion; and surviving modern life in these times. We seek to make these offerings accessible– if finances are a barrier for you, please contact registration@nyimc.org.
Fierce Love, Fierce Change in the Time of COVID-19 with Gina Sharpe
May 3rd, May 31st, June 7th, June 21st from 10-11:30am ET (Drop-ins welcome; you do not need to attend all sessions)
Finding Peace in the Storm – Facing Anxiety and Uncertainty with Mindfulness and Compassion with Paul Epstein
Click here to watch the free recording.
Password to access recording: 1K*08.SY (make sure you do not copy any spaces before or after the password)
NYI Dharma Talks and Guided Meditations
We have curated several dharma talks and guided meditations from our past NYI events to support you during COVID-19. To view our expansive library of talks, please click here.
Dharma Talk: Unraveling Difficult Emotions with Bhante Buddharakkhita
Guided Meditation: Mindfulness & Trauma: Healing Our Wounds with Wisdom and Compassion with Paul Epstein
Guided Loving Kindness Meditation: Living Kindness: Buddhist Teachings for a Troubled World with Kevin Griffin
Guided Meditation: Breathing Practice for Difficult Times with Jill Satterfield 
Dharma Talks & Guided Meditations: Anxiety: It's Not All In Your Mind with Jill Satterfield
Take Part in Our Community Effort!
Since our beginning in 1997, New York Insight has depended on the generosity of yogis to keep the center open and running. With limited staff and resources, we appreciate your support now more than ever.
If you are in a position to show your care, please join us to make this happen. Help us help everyone in our community.
You can join our Friends Leadership Council by contacting members@nyimc.org.
Support our online events! You can become a volunteer by contacting volunteers@nyimc.org.
You can join as a member, if you aren't already.
You can make a donation.
Additional Resources
GENERAL RESOURCES
https://www1.nyc.gov/site/helpnownyc/get-help/individuals.page
A list of resources for those who may be unemployed due to COVID-19 or are seeking additional assistance. Includes: Employment Resources, Food Assistance, Health & Medical Assistance, Financial Assistance, Rent Arrears, Housing & Public Assistance, Emotional Support & Spiritual Care.
FOOD
http://schools.nyc.gov/freemeals
3 free meals are available for ALL New Yorkers at more than 400 meal hubs, Monday-Friday. Includes vegetarian, halal and kosher options. Meals can be picked up at all Meal Hubs 7:30 am to 1:30 pm.
https://cv19engagementportal.cityofnewyork.us/#/display/5e7555117ad6750216160409
NYC Food Delivery Assistance: Assistance to New Yorkers during the COVID-19 crisis by delivering meals to those who cannot access food themselves.
https://www.cityharvest.org/food-map/
This link brings up a map showing locations that are currently distributing food, free of charge, throughout NYC during the COVID-19 pandemic. Get additional assistance finding food by contacting City Harvest at 646-412-0721
https://www.plentifulapp.com/
Plentiful is a free app for an easy to use reservation system for finding food at local pantries and reserving food without waiting in line. Internet access is needed.
https://portal.311.nyc.gov/article/?kanumber=KA-01018
The Supplemental Nutrition Assistance Program (SNAP), or food stamps, helps people with limited income buy food.
MENTAL HEALTH
Office of Mental Health Emotional Support Helpline: 1-844-863-9314
Provides free and confidential support, helping callers experiencing increased anxiety due to the coronavirus emergency.
https://nycwell.cityofnewyork.us/en/ NYC-WELL (1-888-692-9355) is your connection to free, confidential mental health support 24/7. Speak to a counselor via phone, text or chat and get access to mental health and substance misuse services.
https://nycwell.cityofnewyork.us/en/covid-19-digital-mental-health-resources/
Provides links to free apps for anxiety, depression, sleep, peer support, self-care and recovery.
PHYSICAL HEALTH
https://www.nychealthandhospitals.org/
Call for an appointment 1-844-NYC-4NYC. Network of hospitals in New York City that provide care despite insurance status and assists in getting patients connected to insurance.
NYC.gov/GetCoveredNYC
Special Enrollment Period for uninsured New Yorkers is extended through 5/15 with all coverage effective as of 4/1.
DISABILITIES
https://on.nyc.gov/34qzVkF
COVID-19 resources are available for individuals with disabilities, access & functional needs.
DOMESTIC VIOLENCE
https://www1.nyc.gov/nychope/site/page/home
NYC HOPE provides resources for domestic, or gender-based violence.
1-800-621-4673 (HOPE) | In an emergency call 911
SENIORS
https://www.eldercare.acl.gov/Public/Index.aspx
The National Eldercare Locator, a public service of the Administration on Aging, U.S. Department of Health and Human Services, is a nationwide service that connects older Americans and their caregivers with information on senior services.1-800-677-1116
LGBTQ
The LGBT National Help Center local hotline in New York City providing free & confidential support. 212-989-0999
SAGE LGBT Elder Hotline at 877-360-5428 day or night
PETS The NYC Emergency Management Department and the Mayor's Office of Animal Welfare: Pet owners impacted by COVID-19 can call the Pet Hotline at 1-877-204-8821 from 8 a.m. to 8 p.m., 7 days a week.