2019 in Numbers & How You Can Help
As we approach the end of 2019 and look ahead to 2020, lets reflect on what New York Insight has accomplished and how you can help support our path toward our shared future.
By the time we ring out the year at our New Year's Eve Gathering, we will have presented:
Over 120 programs in over 400 sessions featuring:
-Special guest teachers from around the country and the world including
monastics, leaders of the Insight movement, doctors and clinicians on the
science and practical applications of mindfulness, and others requested
by our community from the Theravadan and other lineages.
-NYI teachers offering courses and weekend programs ranging from Deep
Dharma to Mindfulness-Based Stress Reduction.
-Weekend retreats and intensives featuring faculty from Insight
Meditation Society, Spirit Rock and Barre Center for Buddhist Studies.
11 onsite and 5 satellite sitting groups & sanghas in over 450 sessions:
-Ranging from sanghas led by NYI teachers, volunteer practice leaders or
rotating peer participants sharing spiritual friendship.
-Highlighting special topics and peer support groups focusing on climate
change, racial/ethnic injustice, gender/sexual orientation inclusiveness,
new realities of the millenials and GenXers, and sensitivity to our growing
aging population as we encourage Dharma in Action.
-Threading across all of these issues through our Insight Dialogue Sangha,
we grow our relational and communication skills to guide our
awakening as we share with others.
Over 70 volunteers and practice leaders supporting a staff of two full-timers and two part-timers:
-Words are insufficient to express our full gratitude to our volunteers!
So how is all of this accomplished? What is NYI's financial state? Looking at our 2019 income below, we are confident to report that we are stronger than we have been in the last four years.
From the above pie chart and income breakdown, close to 73% of our total $715,000 income is earned, of which less than 8% is derived from the dana collected at our sitting groups. About 27% of our income comes from contributions from our Spring. Membership Drive, our fall Annual Fund Appeal and other related end-of-year activities like our upcoming Dec 14th Dharma Rhythms Holiday Fest and Auction and our New Year's Eve Gathering. Contributed income has been growing in 2019 as our community has both returned and grown.
And, what do your registration fees and generous donations pay for?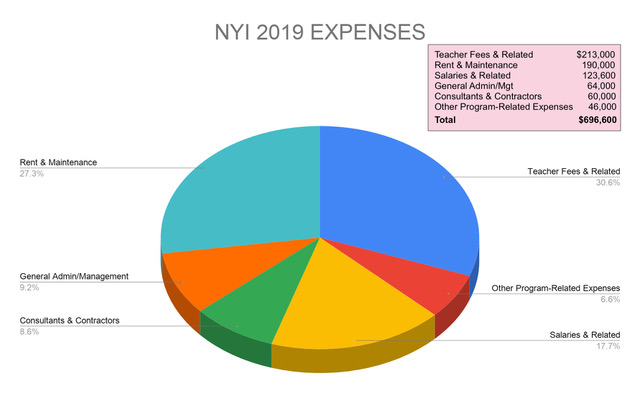 From the above pie chart and expense breakdown, about 37.2% account for teacher fees, travel, refreshments, and other direct costs of the programs and sitting groups. Of the $190,000 that NYI pays for rent and maintenance, about 90% also supports our programs with only 10% allocated for administration and management. Salaries and related of only $123,000 support a full-time staff of two, while $60,000 cover the costs of IT, database, web and marketing support which bring our programs to you.
Clearly from our small operating budget and legion of volunteers, New York Insight's impact is so much larger than our footprint – punching way above our weight!
So how can you help? While our total expenses of $696,600 are well within our expectations for income totaling $715,000, we are still in the midst of our end-of year fundraising. We have $30,000 left to raise and ask those of you who have not yet participated in our Annual Fund Appeal to…
With warmest gratitude, the Board, staff, teachers and volunteers of New York Insight ask that you share your kindness with us as you consider your holiday charitable gifts.
Thank you!