New York Insight COVID-19 Response Update April 15, 2020
Community Survey: What are you most concerned about? How can NYI help?
In late March, NYI's Friends Leadership Council (our membership committee) sent out a short Community Survey to find out as quickly as possible how you are faring under the Covid-19 pandemic and Executive Order. We wanted to know what's on your mind and what can we do to support your sense of well-being in addition to the sits and programs we've transferred to online access?
Below is graphic illustrating what we heard from you. The larger the word in the graphic, the more times it appeared in responses.
As to be expected, we heard that many are anxious and worried. Some are very stressed and scared. Many feel isolated and lonely. However, we also heard that many of you are using your practice and also feeling surprisingly stable, balanced, and experiencing calm. These respondents also mention using their meditation practice and being grateful that they've been able to access their inner resilience. Others experience sudden waves of sorrow, anxiety and terror in the midst of basic steadiness.
You are not alone.
Despite the moments of balance in the midst of such disruption, 87% rated their level of concern as Very or Extremely Concerned. Compared to only 3% that ranked your concern as Not Very or Not at All.
In the above graph, it's not surprising that by the end of March, the concern about health was highest while concern about financials was somewhat less. This may be attributed to timing and perceptions may change as the economic impact of COVID-19 begins to take its long-term toll.
But more importantly, we've been hearing from many of you via email, during our various sits and through our committee meetings. All of us have experienced loss – illness, death and massive disruption in what we were expecting Spring 2020 to be. There is grieving individually and collectively. We are sharing loss.
It was also interesting to learn that many of you ranked concern over the health of loved ones and those with vulnerabilities both nearby and globally much more highly than concern over your own health. We are a generous and caring community.
And, many of you reminded us of important issues that we left off the list such as:
• Are our political leaders and the government up to the challenges that Covid-19 is posing to our healthcare, financial, and safety net systems?
• Our growing inequities are even more exposed and the pandemic is having a disproportionate impact on people of color, the poor, and the vulnerable.
• Will there be increased tribalism and racism with encroaching scarcity?
• Food and housing insecurity will likely grow as the economic impact hits.
We appreciate the many who thanked NYI for our speedy transfer of our 15 ongoing sits and sanghas to online Zoom access. After an initial bumpy start, we are happy to find that most of you have found us, and attendance is actually more robust than ever.
Many of you expressed that having opportunities to convene with others in sangha has been very helpful to processing and integrating these new stresses and losses.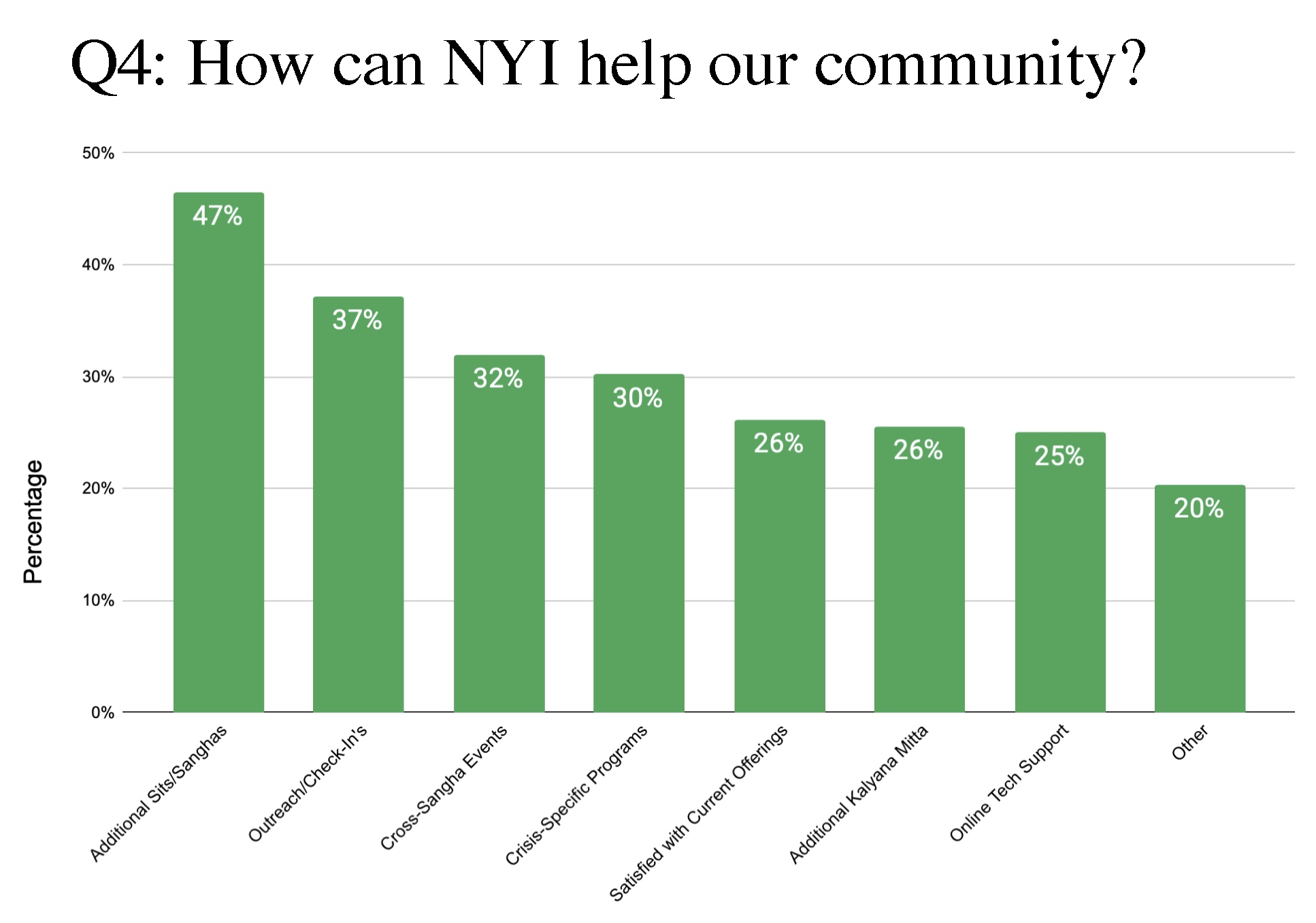 Almost half of the respondents ranked additional shorter sits and sanghas as helpful. Several of you offered more detail requesting early morning, noon time or specifically Sunday morning sits. Others requested that a few ongoing sanghas meet more often, especially during the "shelter at home" Executive Order. This was specifically cited for the People of Color and Insight Out/LGBTQI Sanghas.
Lower on the list, but checked by 37% of respondents was a request for an organized way to reach out and check-in with community and sangha members. There's special concern for the elderly, infirm or those in isolation. About a quarter of the respondents feel that additional kalyana mitta (spiritual friends groups) would be helpful.
About a quarter of the respondents are satisfied with NYI's current online offerings. But we did receive numerous requests from those seeking our Aging as a Spiritual Practice Sangha, so we hear you. We obviously need to do better with reaching out to our older generation community and helping them get on line.
Other requests include:
• Suggestions for strengthening connections among community members such as directories, message boards, book clubs and study groups.
• Access to recordings to our Zoom programs, especially those featuring guest teachers.
• In this time of isolation, can we collaborate across sanghas and with other dharma centers?
• Can NYI offer more reduced fee or free programs (in addition to the sits)?
NYI thanks all of the respondents as well as those of you who have offered feedback via email, phone and other virtual means. So far the staff, Board, Teachers Council, Program Committee, and Friends Leadership Council have reviewed the findings. The staff has already begun to address a few of the requested program ideas and are working on others within the limitations of our finances.
We will be getting back to you with more. We hear you. We care. And, most of all we hope that we can serve you and strengthen the connections among all of us during this trying time.
But we ask those who are in a position to show your care, please join us to make this happen. Help us help everyone in our community.
•You can join our Friends Leadership Council by contacting members@nyimc.org. You can become a volunteer by contacting volunteers@nymic.org
•You can join as a member, if you aren't already.
•You can make a donation.
Update on Monday, March 16th, 2020:
During this emergency, please check our web site and your emails for late breaking news and information about our programs and sanghas. Also, do check your spam filter periodically for messages from NYI that might not have made it into your email inbox.

 
Update on Friday, March 13th, 2020:
Due to the rising concern about the COVID-19 pandemic, NYI is transitioning into online programming. Effective Monday, March 16th, at 5 pm and continuing for at least a month, NYI will no longer hold in-person public programs, sanghas and community meetings. 

This weekend, we will offer online options in support of our remaining in-person programs depending on teacher facility. Participants have been notified as appropriate.  We will update our community and the respective program registrants for our upcoming programs as necessary via web site and emails. As we approach April 15th, 2020 we will reassess when it will be appropriate to offer in-person programs again.

The major reason for our decision is of course the health and safety of our teachers and community of yogis. However, we are also committed to supporting the efforts of our federal, state and local government leaders to contain the covid-19 pandemic.  Therefore, we want to decrease the need and incentive for our community to travel throughout the NY Metro area using public transit as well as decrease unnecessary opportunities for potential exposure outside and within our Center. 
 
Please check our events calendar for information on specific programs and sangha meetings. When possible our programs and sits and sanghas are moving to online access. We will post updates here and on the event calendar as they come in.

 
Saturday, March 7th, 2020
Dear New York Insight Community,
To support the health of our community, we would like to share some helpful guidelines from the US Center for Disease Control in light of recent updates about COVID-19 (coronavirus).
We encourage you to:
•Wash your hands with soap and water often for at least 20 seconds.
•Use the hand sanitizer, wipes, and tissues available on the premises.
•Avoid touching your eyes, nose, and mouth.
•Cover your coughs and sneezes with a tissue or your inner elbow.
•Stay home if you are coughing, sneezing, have or have just had a fever.
•Please stay home and call your doctor if you develop symptoms, have had close contact with someone who has COVID-19, or if you have recently travelled from an area with a widespread or ongoing community spread of COVID-19 If you have visited any location that the CDC is designated as "Level 3" (i.e. China, Iran, Italy, and South Korea), please do not visit New York Insight until you have been symptom-free for 14 days after returning to the U.S. Please check the CDC website here for the latest information.
For those not able to attend due to illness, we will offer a refund or a full credit towards future events. Please email registration@nyimc.org as soon as possible.
Our programs will remain as scheduled. We are closely monitoring this situation through the Centers for Disease Control (CDC) and New York State Department of Health (NYSDOH). We will communicate any updates or changes with our schedule with the NYI community by email and on our website.
Thank you for your cooperation in keeping our community safe and healthy. May you all be well.
With metta,
New York Insight