Dharma Rhythms for New York Insight
A Benefit to Make NYI Stronger, Deeper, Wider…
Saturday, December 15th, 2018 | 1:30pm – 6:30pm Open House at New York Insight
Join us for an afternoon of amazing music, homemade refreshments and irresistible raffle prizes—from $5 up. We're celebrating NYI's 15 years at our beautiful Chelsea home and all the people who have made it a sangha, a refuge of peace and sanity in the city.
You're invited to bring a percussion instrument or borrow one of ours for a beginning drum circle. The party continues with renaissance bassist John Ferrara and percussionist Seth Moutal, Kirtan artist Ambika, and finally, the exuberant sounds of Broadway with singer Ruperta Nelson.
Come, listen, join in, connect with longtime and new sangha members to celebrate our community and support our spiritual home.
And speaking of new sangha members, our new Executive Director, Jessica Chao and new Director of Programs, Gary Sharlow will be joining us for the fun so come meet and greet. While there will be a more formal Town Hall in the New Year for us to listen to your hopes and aspirations for NYIMC, this day will be an entertaining, social affair for the entire community.
Silent Auction & Raffle prizes include a weekend retreat at IMS, three private Therapeutic Yoga Sessions in the privacy of your own home, a stack of teacher-signed dharma books, a seat at the NYI series taught by renowned teacher Andrew Olendski… and so much more. Purchase raffle tickets here. It's going to be fun, spirited, and will open your heart and maybe get your feet moving too.
We hope to see you here.
COME MAKE A JOYFUL NOISE!
Registration:
The Line Up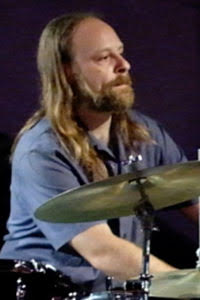 Seth Moutal: Drum Circle Facilitator:
Seth received a BFA degree from The New School University where he studied Music and Music Therapy, he also graduated from the Mannes School of Jazz and Contemporary Music in New York City, NY with honors (May 2001). As a drummer and percussionist, Seth is well-versed in funk, jazz, fusion, pop, rock, country, Dixie land, bebop, Latin, Brazilian, Middle Eastern, Indian, African, Native American and Music Therapy. He is a practiced sound healer, reiki practitioner, chakra balancing and channeling. Seth feels drum circles are a good means for building community, releasing endorphins, self-expression and validation. He is excited about joining NYIMC for a day of celebration by facilitating this Dharma Drum Circle. www sethmoutal.com


John Ferrara (Bassist, Composer, Teacher)
John's style blends deep grooves, contrapuntal tapping, dense chords and classical Indian percussion, with shades of avant guard experimentation. He has earned a reputation as a renaissance bassist, pulling from many different techniques from slapping, to tapping to finger style. Ferrara has studied with South Indian Kanjira master Ganesh Kumar and has shared the stage with Victor Wooten, Otiel Burbridge, George Porter JR, as well as countless other bands in the Progressive rock Jazz fusion and Jam scenes. A founding member of "Consider the Source" dubbed a "Sci-fi Middle Eastern Fusion" original band. He regularly tours all over the U. S. and has performed internationally in countries including Germany, Turkey, Israel and India. www.johnferraramusic.com

John Ferrara and Seth Moutal
The music performance will consist of original compositions by John and Seth … The music is rooted in jazz, rock, classical and minimalism and Indian music, … Their debut release "Frail Things in Sharp Places' has been written up in notable music magazines and their live performances have been impressing audiences across the nation. The website Notreble.com says this about the album "Each song tells its own story, but together they weave a beautiful tapestry that gives one a cinematic sense from the experience, like listening to the arc of a movie." The performances are heartfelt and intimate expressions of the deepest places of these two seasoned musicians.


Ambika Chant
Ambika has been a singer and musician for most of her life, playing in various bands in NYC until she discovered chanting with Krishna Das in 1995. Kirtan had a profound effect on her, and lead her to India where she met her teacher and Spiritual Mother, Shri Siddhi Ma. As Ambika  deepened her connection to the practice of chanting, it became her home and refuge. Recently she has been exploring chants from other faith traditions, working with a program at The Cathedral of St. John the Divine.

In February 2015, Ambika released a digital single "Metta Chant", produced and recorded by Devadas Labrecque. Her first full-length album, "Mother's Calling", produced by Lily Cushman, is available now on Mantralogy. Learn more about Ambika at www.ambikachant.com.


Ruperta Nelson, Vocalist, Writer
Ruperta's credits show a wide range of versatility in her vocal performances: National Tour credits are: Ragtime (Ensemble, Sarah u/s, Sarah's Friend u/s), Showboat (Ensemble, Featured Singer, Queenie u/s) Off-Broadway: Cast recording John Tartaglia's Imagine Ocean, Regional: Revision Theatre Dreamgirls (Stepsister); Local Theatre: Clocktower Players _ Company (Marta); Village Light Opera Group – Princess Ida (Sacharissa), CAP – Once on This Island (Eurzulie), Hope Players – Into the Woods (The Witch), Clocktower – Ragtime (Sarah), SGTG – Sister Act (Delores/Sister Mary Clarence). Ruperta is excited to celebrate NYI sangha community.